AHMM co-founder beat four other contenders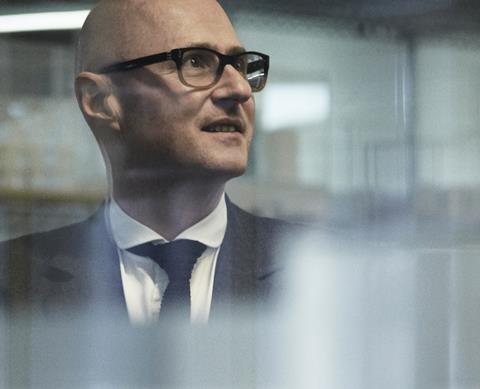 Simon Allford has been elected the next president of the RIBA.
The co-founder of Stirling Prize-winning practice AHMM beat the biggest field in years to take the crown.
He will start his two-year stint in September 2021 after Alan Jones steps down but he will be known as president elect from 1 September this year.
As the election results were announced he vowed to make the RIBA "an institute of ideas with architecture front and centre".
Allford, who leads a 200-strong design studio in London, is also a writer, critic and advisor a visiting professor at Harvard, a former chair of the Architecture Foundation and currently a trustee of the London School of Architecture and the Chickenshed Theatres Trust.
He beat Sumita Singha, who would have been the first woman of colour to lead the RIBA, Glasgow-based Jude Barber, Nottingham architect Valeria Passetti and Manchester's Nick Moss.
Speaking today, Allford said: "It is a privilege to have been elected and I look forward to working with members, Council, Board and staff to create a leaner, more open, productive, engaged and reinvigorated RIBA.
"We need an institute of ideas with architecture front and centre, hosting debates, lectures and exhibitions reflecting changing cultural and practice contexts. We need an institute that celebrates and promotes members' work at home and worldwide. We need an institute that is a practice friend, enabling members to share ideas about best ways of working, using today's technology to help advance architecture for the benefit of society – our Charter obligation.
"I am committed to the 'House of Architecture @ RIBA', an online and physical entity capable of forming alliances with clients, consultants and contractors to influence government over procurement and education, while also helping us to address global climate change and architecture's pivotal role in a post-pandemic world."
He was congratulated by Alan Jones, the Northern Irish architect and academic whose presidency has been blighted by police and internal investigations stemming from an affair he tried to cover up.
Jones said: "The next few years will be crucial for our planet and profession as we navigate through health, environmental and economic crises – so Simon has a significant role to play in ensuring all architects receive the strong support and inspiring leadership they need to survive and thrive. I look forward to counting on Simon's support over the next year before I hand over to them in 2021."