Specialists say technology cannot plug all gaps caused by social distancing protocols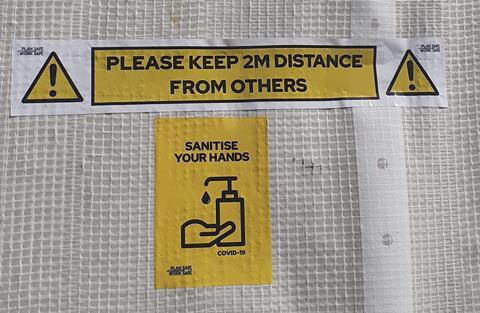 Construction sites will not return to 100% productivity while the 2m rule is in place, industry specialists in tech and innovation have said.
Andrew Gamblen, digital manager at Willmott Dixon, warned that no amount of available tech will enable the firm's sites to reach 100% productivity until social distancing restrictions are replaced.
Gamblen said that with many tasks on sites requiring people to be in closer proximity than 2m, "until that restriction comes off, it's going to be very difficult to get back up to fully 100% because you will need more men on site and it's just not safe to keep that many people that close together".
But, speaking at a Building webinar on how construction is using technology to recover from the coronavirus crisis, he suggested that the resilience of projects which use BIM provide reasons to feel upbeat.
"Those projects which have been using BIM have had much less of a productivity hit and an output hit than those which don't use it."
And he added that the refining of safety measures introduced at the start of lockdown have done much to improve productivity across all Willmott Dixon's sites, which now have an average 80-90% level of output compared with pre-lockdown levels, up from 70% during the height of the pandemic in April.
Gamblen said: "We are in an unprecedented time of adversity and we are learning a lot very, very quickly. This period is really starting to showcase things and show better ways of working."
The sentiment was echoed by Sam Stacey, construction director at government agency UK Research and Innovation, who said that the crisis could lead to "a real step forward for the industry".
Stacey, who runs the financial support for the construction sector deal, said: "Without doubt it is an opportunity to accelerate that culture change in the industry and embed better ways of doing things that will benefit us in the long term."
Innovations hailed by Stacey included immediate practical responses such as wearable technology that can check on social distancing, flag up breaches and be used for contact tracing.
He also pointed to remote site visits using onsite cameras in combination with virtual reality headsets to check site progress and in some cases compliance checks.