DPS to run alongside Building Better's original framework
Six manufacturers have been appointed to a dynamic purchasing system (DPS) for the provision of panelised modular homes.
Future Built, LoCal Homes, Project Etopia, Roe Timberframe, Sigmat and Starship Homes are the first firms selected by Procurement for Housing (PfH) and Building Better for the framework.
The DPS is worth £600m over four years and will help clients procure category 2 modern methods of construction systems – two-dimensional panel systems which are built in-factory before being assembled on site.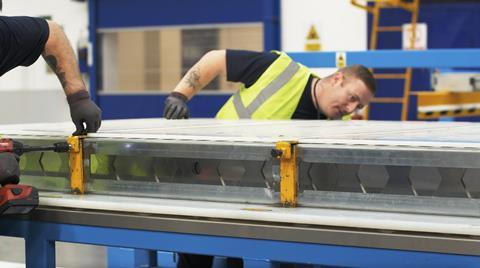 It will run alongside Building Better's initial framework which launched in July last year and covers category 1 volumetric systems, which see homes constructed in the factory and sent to site in three-dimensional form.
Members of Building Better, an alliance of 29 housing associations and local councils, supported by the National Housing Federation, have put nearly 40 schemes through the volumetric framework since its launch.
Building Better aims to help the social housing sector produce around 5,000 MMC properties by 2026.
The DPS means additional panelised manufacturers can join through the four years – though manufacturers must be certified by the Buildoffsite Property Assurance Scheme or assessed by building warranty provider the National House Building Council.
>>> 5 minutes with … Trina Chakravarti at Building Better
Trina Chakravarti, project director of Building Better, said social housing organisation had historically been wary of panelised manufacturers, uncertain of whether firms were viable long-term.
She said a solution was needed that would "still provide high standards and ease of access" but didn't "clip the wings of manufacturers operating in such a fluid environment".
"A major benefit of setting up a DPS is the learning," said John Bellamy, category manager for construction and sustainability at PfH. "As an alliance, we'll be able to grow our understanding of what housing organisations actually require with category 2 and the technical solutions they gravitate to."