Allies & Morrison and Sheppard Robson among those chasing deal next door to football club's new ground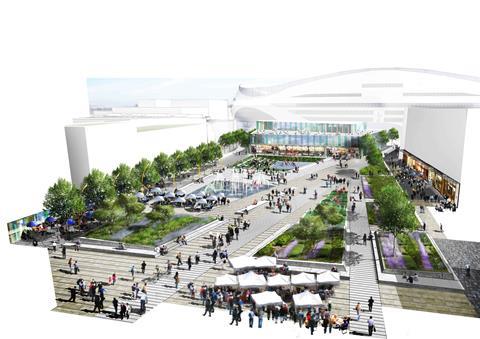 Half a dozen practices are vying for a £450m housing development next to Spurs' new stadium in Tottenham.
Bell Phillips, Mae and Allies & Morrison are among the architects in the running while Pollard Thomas Edwards, Sheppard Robson and Planit IE are also on the shortlist.
The practices are working with six developers shortlisted earlier this month by Haringey council for the 1,400-home High Road West scheme.
The developers shortlisted through an Ojeu competitive dialogue process, are Barratt, Countryside, Lendlease, Linkcity (part of Bouygues), Stanhope and Taylor Wimpey.
Barratt is working with Bell Phillips and Mae; Stanhope with Allies & Morrison; Countryside is using Pollard Thomas Edwards as masterplanner and Sheppard Robson as architect; and Taylor Wimpey is using landscape architect Planit IE as masterplanner.
A winner is expected to be announced early next year.
The 11ha neighbourhood will be built next to Spurs' new £600m stadium designed by Populous.
It will link the upgraded £14 million White Hart Lane station with the stadium and include a park, restaurants, bars, cafés, a library and learning centre and a public amphitheatre to host screenings and community events.
Cllr Alan Strickland, Haringey council cabinet member for housing, regeneration and planning, said: "This is a project which will transform Tottenham and bring more than 1,400 new homes and thousands of new jobs to the area.
"Developments like High Road West send a clear signal that Tottenham is London's most dynamic and important regeneration area. The partner we select for this major project will share our vision for a development that brings huge benefits for our residents and businesses for generations to come."
High Road West is part of a £1 billion, decade-long transformation of Tottenham. This also includes the redevelopment of Tottenham Hale.