Interserve fit-out of developer's office receives high-level sustainability rating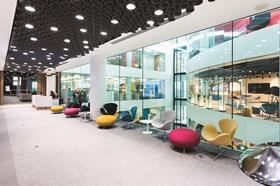 Interserve's fit-out company Paragon has achieved a SKA Gold rating – one of the highest accolades for a sustainable office fit-out – for its recent fit-out of developer Hammerson's new headquarters in King's Cross, London.
Key sustainable features include the reuse of luminaires to reduce cost and save on energy, low flow rate showers to maximise water efficiency and the recycling of 100% of demolition waste and 99.54% of construction waste.
In addition, all of the workstations are certified under the Furniture Industry Sustainability Programme scheme.