Exclusive: Analysis of documents shows Skanska used blacklisting organisation more than any other contractor in final four years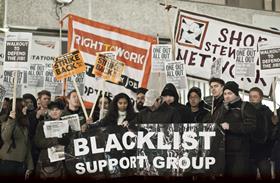 Skanska was one of the biggest clients of blacklisting firm The Consulting Association and spent more on its vetting services in the last four years of its existence than any other contractor, analysis of a newly released document has revealed.
Documents provided by the boss of The Consulting Association (TCA) Ian Kerr, who died last December, were this week published by the Scottish Affairs select committee - which is investigating blacklisting - and included a table of membership and usage charges by 34 contractors from 1996-7 until the organisation was closed in 2009. TCA was established in 1993.
Building's analysis of the document shows that Sir Robert McAlpine was the largest user of the now-defunct organisation during the period covered, with a total spend of £220,000. This was just ahead of Skanska at £216,000, including spend by a business Skanska acquired in 2000.
To see the full blacklisting spending table click here
The table also shows that in the last four years running up to the exposure and closing down of TCA, Skanska's usage fees of £118,000 outstripped its peers by some margin, with Sir Robert McAlpine spending the second highest amount in this period – £100,000.
By contrast however, Carillion - which has been the focus of a major anti-blacklisting campaign by the GMB union - spent only £71,000 with TCA in total and ceased all spending in 2004, as the firm has previously claimed.
Biggest spenders

Former electrician and leader of the Blacklist Support Group, Dave Smith, said: "Skanska was one of the biggest spenders and should be brought to justice like everyone else."
Construction union Ucatt previously pointed the finger at Skanska when it appeared before the committee last October.
Senior Ucatt official Jim Kennedy complained then that Skanska was "the biggest blacklister in the industry" in terms of paying TCA for checks but had escaped any punishment.
Although data protection watchdog the Information Commissioner's Office issued enforcement notices against 14 construction companies after uncovering TCA in 2009, neither of the two top-spending firms faced any sanction.
A spokesperson for Sir Robert McAlpine said that the company's usage of TCA "can be linked to the variations in turnover and types of project which any major construction firm experiences."
Skanska declined to comment.