Speaking after firm posted solid results, Mike Putnam hits out at competitors that are making loss-making bids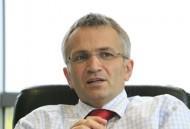 The chief executive of Skanska UK Mike Putnam has slammed competitors for submitting loss-making bids on jobs.
Speaking to Building after the contractor posted solid full-year results yesterday, Putnam said the firm's strategy was to be "selective" and it would not "go for lowest price".
Putnam warned the problem was particularly noticeable in the commercial sector. He said: "When the market goes into recession clients and contractors revert to type. We have to respond to [the market] but we try to be selective.
"We won't go and take loss leaders. For those that do it will come home to roost."
Announcing its results for the year to 31 December 2012, the contractor posted revenue of £1.16bn, down 4.5% on £1.22bn the previous year.
Operating profit rose 4.2% to £42.1m from £40.4m, with operating margins up from 3.3% 3.6%.
The firm said its orders rose 23% from £878m to £1.08bn, while the order backlog was down 5% £1.89bn to £1.8bn.
Putnam said the firm's primary focus was on improving operating profit and margin.
He added the firm is primarily targeting growth in its fledgling commercial development division and within the energy and infrastructure sectors.
Putnam said the firm was "more optimistic" about the infrastructure sector – particular rail and roads – after recent government focus on the sector.
He said the wind sector was a "big opportunity" for the UK division after three years of investment, despite the fact it has not yet secured a single contract.
Investment included striking a joint venture last year to deliver foundations for offshore wind turbines.
However Putnam called for greater "clarification" from government on energy policy, including in the under-consideration Energy Bill, particularly on electricity strike prices.
Putnam said the firm was maintaining market share in the commercial sector, despite losing out in the race to build London's £290m Principal Place tower after developer Great Portland Estates sold the scheme to Brookfield last January. Brookfield will now build the scheme – which Skanska was previously shortlisted for against Sir Robert McAlpine – once a pre-let is secured.
Putnam noted that the firm completed the tallest tower in the City of London Heron Tower last year and is now doing "more medium-sized schemes".
He said the firm will grow its fledgling residential business "quite slowly" and was "moving ahead as planned" with both "building and selling" on its first project in Cambridge.
Skanska globally grew revenue 8% to SEK 131.9bn (£13.2bn) from SEK 122.5bn (£12.3bn) and operating profit fell 49% to SEK 4.6bn (£460m) from SEK 9.1bn (£910m).
Putnam said the global business was primarily targeting growth in Swedish construction, UK construction, US civil and buildings – particularly in PPPs, in Poland, infrastructure – particularly PFI and PPP, commercial development.