Contractor ditches ambition to become one of the UK's top housebuilders as it closes Homes by Skanska business in the UK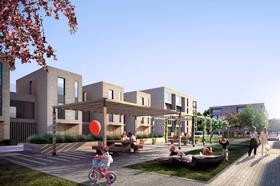 Skanska has abandoned its ambition to become one of the UK's top housebuilders after it announced it would close its fledgling housing development division.
The contractor launched Homes by Skanska with much fanfare in 2011 with the stated aim of becoming one of the UK's top 20 housebuilders by 2015.
However today the firm announced it was closing the business in the UK.
This comes after Building revealed in April that Skanska had brought Homes by Skanska, which had been launched as a separate business, into its main contracting business. At the time Skanska reiterated its long-term commitment to the business.
But speaking to Building this week, Mike Putnam, chief executive of Skanska, said the firm had now abandoned its ambition to be one of the UK's biggest housebuilders.
He said: "We started this with high ambitions but we soon lowered those ambitions and it's a relatively small part of what we do today."
Putnam said that, although the business was profitable, the return on capital investment was not as attractive as in other areas, such as infrastructure and commercial developments.
He said the firm will continue to build-out and sell its Homes by Skanska development site at Seven Acres in Cambridge (pictured), but would sell off its remaining development sites, with the firm expecting to make a "small to moderate" profit.
Four jobs have been put at risk but Putnam said he did not expect to incur substantial costs from closing the division.
Skanska insisted the move did not mean the contractor was withdrawing from the residential market, with the firm saying it would continue work with private and public sector clients on mixed-use and prime residential developments.
Putnam said: "The one thing with housebuilding is that it ties up a lot of capital and you need to turn that over quite quickly to get the returns."
He said the lead times in housebuilding were quite long and you needed a large land bank to make it work.
Putnam said the money it had earmarked to invest in the Homes by Skanska would be used elsewhere.
"We see big opportunities in infrastructure generally and in future commercial developments," he added.