Contractor to provide infrastructure and logistical services for the first phase of the huge housing-led North West Cambridge project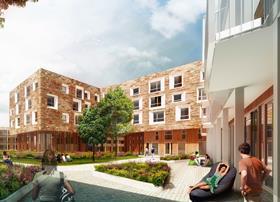 Contractor Skanska has won a contract to build the infrastructure on the first phase of the £1bn North West Cambridge development.
The North West Cambridge project, which is being developed by Cambridge University, will include accommodation for 2,000 postgraduates; 1,500 key worker housing units; 1,500 market homes and other amenities and academic facilities when all its phases are complete.
Skanska has been appointed to a £50m contract to provide the utilities; build the primary and secondary roads; and co-ordinate the installation of a site wide district heating network on the first phase of the scheme.
The work will also include building the largest rainwater recycling system in the country, which will collect water in swales that will channel it into a lagoon from where it will be treated and pumped back into the homes for use as non-potable water.
The contractor will also provide logistics, traffic management, security and delivery management throughout the construction of phase one of the project.
The job is due to start this month and complete in spring 2017.
Bill Hocking, executive vice president of Skanska UK, said the scheme was one he was "particularly proud to have won" because it was a "strong endorsement of Skanska's ability to provide innovative, sustainable and cost-effective solutions".