Other professions seeing pay rise include M&E operatives and shopfitters
Skilled trades such as bricklayers, plasterers and electricians are cashing in on a booming housing and home improvements market with weekly wages going up by an average of 20% in a year.
Other trades seeing their wages jump since last April include roofers and joiners, according to data provided by self-employed payroll provider Hudson Contract.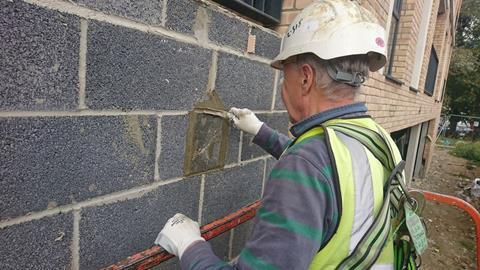 Figures released by the East Yorkshire-based firm show the weekly pay packets of bricklayers jumped by 39% to £930 in April 2021, while electricians pocketed a 20% hike with weekly earnings now hitting four figures at an average of £1,031.
Away from the housing market, other trades to benefit from the pent-up demand caused by lockdown easing and homeowners eager to spend cash piles built up during lockdown include M&E operatives with their weekly pay packets up 23% to £1,011 and shopfitters – called in to make retail stores compliant with government covid regulations – who have seen their weekly pay packets rocket one third to £1,045 last month.
Hudson Contracts said the data was based on more than 2,500 firms it works for throughout England and Wales.
Its managing director Ian Anfield added: "The housing market is in a state of frenzy with mortgage lending rising to record levels, homeowners are spending cash piles built up during lockdowns on renovation and remodelling work and the government is proceeding with mega-projects and shovel-ready schemes.
"The UK economy is roaring so the challenge now is for the construction industry to keep pace whilst dealing with spikes in demand for skilled labour and materials."
Anfield also added his voice to the growing list who have flagged the current materials shortages as the biggest problem facing the industry – which he said was now eclipsing traditional worries over getting hold of labour.
Average rates for different trades
| TRADE | APRIL 2020 AVERAGE WEEKLY EARNINGS | APRIL 2021 AVERAGE WEEKLY EARNINGS |
| --- | --- | --- |
| BRICKLAYING | £670 | £930 |
| CIVIL ENGINEERING | £625 | £839 |
| DEMOLITION & WRECKING | £753 | £766 |
| ELECTRICAL | £857 | £1,031 |
| EQUIPMENT & OPERATOR HIRE | £793 | £851 |
| GENERAL CONSTRUCTION | £760 | £887 |
| INSULATION | £804 | £881 |
| JOINERY | £827 | £967 |
| MECHANICAL & ENGINEERING | £822 | £1,011 |
| PLASTERING | £660 | £761 |
| PLUMBING | £921 | £925 |
| ROOFING | £610 | £733 |
| SCAFFOLDING & LIFTING | £607 | £731 |
| SHOP FITTING | £789 | £1,045 |
| SPECIALIST TRADES | £757 | £832 |
| STEEL & TIMBER FRAME ERECTION | £579 | £949 |
| SURFACING CONTRACTORS | £659 | £824 |
Source: Hudson Contracts