Damning Lords report says skills shortages and fragmented industry among root causes of HS2 cost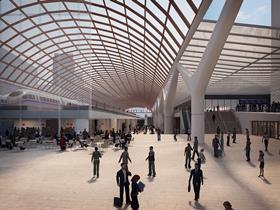 A House of Lords report into the costs of HS2 has said that a lack of skills, long-term planning and capacity in the UK construction sector is partly responsible for the sky-high costs of the project.
The damning report by the House of Lords Economic Affairs Committee titled The Economics of High Speed 2, published yesterday, said that the cost of HS2 per mile would be up to nine times that of an equivalent high speed rail line in France, and the project should be put "on hold" until the government can present a more convincing economic case for the £50bn line.
The Lords report states that the cost to build phase one at around £90m (at 2011 prices) per kilometre compared with £23.3m per kilometre (£37.6m per mile) for High Speed One from the Channel Tunnel to London.
The report noted that evidence given by the chairman of HS2 Sir David Higgins pointed to a lack of experience building new lines in the UK as one of the reasons for the high cost. Higgins said that the UK market was "fragmented, low-cost, low-margin, buying on the lowest common denominator, not investing in long-term skills".
Giving evidence, Higgins said: "I was an engineer here - scary - in 1979. I believe I could still be an engineer in the UK with the same skills I had in 1979. That is a pretty scary thing to say, is it not?
"It is not a high-tech industry. It is a very, very fragmented industry. We buy on lowest cost all the time. We never invest in skills. We have a supply chain that is fragmented and low-cost. We have companies that are undercapitalised. People have been gobbled up by American consulting firms."
Higgins said the UK did not have the equivalent of the big Spanish, German or French multidiscipline contractor companies that invest in skills, but the government – as the construction industry's biggest customer - had the ability to change the industry .
Higgins added: "The biggest buyer of construction in this country is the Government, and the Government need to buy on terms other than, "I am just going to screw you to the lowest possible cost. I am not going to worry about your commitment to R&D or investment in skill".
The Department for Transport acknowledged in their written evidence to the House of Lords that the UK had "a skills gap in railway engineering and advanced construction" and that a recent report had identified "a need to substantially increase the supply of engineers in the UK."