FMB launches agenda to improve quality in construction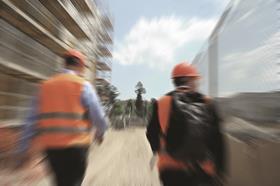 Small builders are calling on government to introduce a licensing scheme in order to stamp out cowboy builders, according to the Federation of Master Builders.
Almost 80% of builders are calling for more regulation in the construction industry to get rid of poor quality, according to the Federation of Master Builders (FMB).
Brian Berry, chief executive of the FMB, said: "Until we introduce a licensing scheme in construction, cowboy builders will continue to run rampant in our industry. Licensing would ensure a minimum level of competence and professionalism and give consumers greater assurance when hiring a builder.
"Unlike in the US and Germany, anyone can be a builder in the UK. What this means is that we have allowed a significant minority of cowboy builders to give the whole construction industry a bad name.
"Our latest research shows that almost 80% of our members are so fed up with rogue builders tarnishing their reputation, they are in favour of introducing a licensing scheme."
Berry said the group's research had found a third of homeowners in the UK were so anxious about hiring a "dodgy builder" they chose not to commission any building work.
A new licensing scheme is one of three key aims outlined in the FMB's new agenda for addressing quality issues in the construction industry, which was launched in the House of Commons last night.
The 'Raising the bar: A post-Grenfell agenda for quality and professionalism in construction' agenda is also looking to introduce mandatory warranties for work that requires building regulations approval and the introduction of a new general builder qualification.
The FMB is recommending the building regulations sign off should simply be adapted to include the requirement for a minimum 24-month warranty by any warranty provider with a code of practice which meets the Chartered Trading Standards Institute's standards.
The trade body is also looking to work with its members and other industry bodies to develop a framework for the general builder qualification that will be attractive to the industry. It will then scope out both the implementation and delivery of this qualification.