NFB study shows that, although over half of small firms think they would benefit from BIM, nearly three quarters have not used it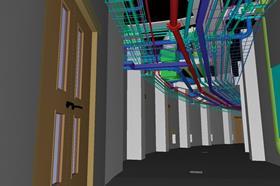 Small and medium-sized builders are ready to embrace building information modelling (BIM) but lack the knowledge, forward planning and training to adopt it, a survey by the National Federation of Builders (NFB) has found. The survey, shared exclusively with Building, found that 57% of SME contractors believe BIM will be beneficial for their businesses.
But nearly three quarters of SME contractors (73%) have never worked on projects utilising BIM features, including 3D drawings or clash detection – compared to only 21% of large contractors with no experience of these features.
The survey also found only 10% of SMEs are planning to organise BIM training, compared to 52% of large contractors.
Only 2.7% of SMEs and 25% of large contractors said they understand the different levels of BIM and have actively considered their implications for their projects.
The government has mandated the use of BIM level 2 working on all centrally funded projects by 2016, and it is expected that the wider public sector will follow suit.
BIM is a process for designing a building or structure collaboratively by using one coherent system of computer models.
Qualitative responses to the survey suggest limited information, concern over the level of investment required and uncertainty around demand among local authority clients are the key barriers inhibiting BIM adoption among SME contractors.
The NFB called on the government to promote stronger communication and discussion of the business benefits for SMEs.
The NFB – which represents SME contractors – surveyed 135 contractors, of which 23 were large (over 250 employees).