Industry in for a 'tough few weeks' one boss warns as covid cases hit highest level since January peak
Deliveries of construction products are being impacted by a soaring number of industry-wide absences due to self-isolating workers, the UK's biggest building materials supplier has admitted.
Travis Perkins said it is doing "everything in our power to minimise the impact" of staff shortages after data showed that more than 500,000 people in the UK were 'pinged' by the NHS covid app in the week to 7 July, up nearly 50% on the previous week.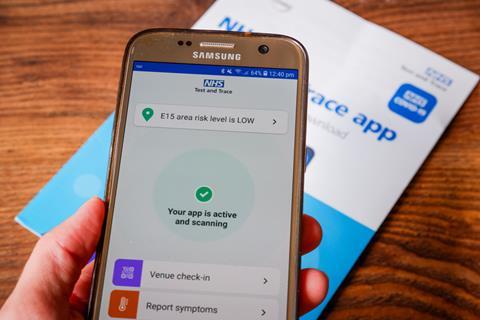 The firm's warning comes amid an ongoing materials shortage and after a weekend during which new covid cases hit 50,000, the highest since mid-January at the peak of the pandemic's second wave.
A spokesperson for Travis Perkins said: "Like all other businesses in the country we are affected by the increasing number of coronavirus cases and colleagues being told to self-isolate as a consequence of track and trace.
"This is affecting pockets of our branch network, but we are working through this at local levels with our customers and doing everything in our power to minimise the impact on our service by fulfilling orders from other locations where required.
"Where branches are impacted, order levels may on occasion take a little longer than we would like, and we continue to monitor the situation."
The NHS test and trace app alerts people who have come into contact with someone infected with covid-19 and tells them to self-isolate for 10 days, meaning that they cannot leave their homes to go to work.
Construction sites are already struggling to fill roles due to an ongoing labour shortage, while the increase in the number of people being told to self-isolate comes as many workers are on leave due to summer holidays.
Building understands that one medium-sized contractor in London is currently facing 20% of its site staff having to self-isolate.
And Neil Sherreard, deputy chairman of regional contractor Beard, said the industry could be in for a "rough few weeks".
Sherreard, who was himself 'pinged' by the app six days ago and is currently self-isolating, said that Beard has seen an increase in covid absences "certainly in the last week alone".
"You've got a bit of a perfect storm in a lot of respects – people having to isolate, lack of people, lack of materials, European labour returning home and not going back."
He added that while Beard was currently able to cover absent staff, he expected covid cases to increase and advised firms to plan ahead by securing freelance support.
A spokesperson for Keltbray, which is currently carrying out the demolition of Elephant and Castle shopping centre as part of a £1.5bn regeneration scheme, said the contractor was continuing with social distancing and face masks on its sites "for the foreseeable future" to prevent any covid outbreaks – after rules on facemasks changed yesterday as part of so-called 'freedom day'..
Build UK chief executive Suzannah Nichol said that the industry was in for a "long four weeks" until rules over self-isolating are relaxed on 16 August.
Nichol said that members of the trade group had flagged the so-called 'pingdemic' as the biggest risk they were currently facing "because it takes whole teams down".
"Once it takes a group out, you haven't got a spare gang, you can't just replace them. They're usually very bespoke to that particular job and that particular site so it is going to become more of a challenge."
She said that, according to feedback from members, more industry workers were currently in self-isolation than at any point during the pandemic and warned that some firms were already looking at reviewing their programmes for projects because of the labour shortages.
Last week, the CLC said the construction employers should "expect and recommend" that staff continue to wear face coverings in crowded and enclosed areas beyond yesterday's formal easing of covid restrictions.
The government will still require close contacts of people in England who have tested positive for covid-19 to self-isolate until 16 August.
From that date onwards, close contacts will not have to self-isolate if they have received both doses of the vaccine or are under 18.
They will be advised to get a PCR test and if it is positive then they will still need to self-isolate for 10 days.