Highways England and Network Rail jobs give Dutch consulant a lift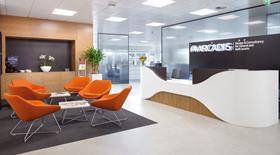 Strong growth in the UK helped Arcadis post a modest hike in organic net revenue in the first six months of 2018, although issues in Brazil, Asia and the Middle East continued to hit the business.
The Dutch consultancy giant said total gross revenue in the six months to the end of June 2018 dipped 4% to €1.6bn (£1.4bn), while net revenue also fell 4% to €1.2bn (£1.1bn) year-on-year.
Operating earnings came in at €88m (£78m), up 2%, with operating margin up slight at 7.3%.
Earnings before interest, tax, depreciation and amortisation (Ebitda) were flat at €100m (£89m), although Ebitda margin rose 0.2 percentage points over the first half.
Arcadis said UK revenue grew 15%, driven by large infrastructure projects for Highways England and Network Rail, with contributions from smaller additional business lines.
Revenue across Continental Europe rose 3%, which combined with the UK's performance helped compensate for an 8% dip in the Middle East, where selective bidding activity continued to depress revenue.
The Euronext-listed company said it still planned to sell its clean energy assets in Brazil, where operational problems lost it €4.7m (£4.2m) in the first half of 2018, while organic revenue in the in Asia Pacific operation grew 5%, boosted by a 20% rise at the firm's Australian operation, making up for a 3% fall in Asia.
The firm's US architecture and planning subsidiary CallisonRTKL suffered a 7% dip in revenue to €105m (£93m), although Arcadis said it had seen a strong order book in the second quarter.
Speaking about the results chief executive Peter Oosterveer said the group's focus on what he called "disciplined project management and client selection" was starting to yield results.
He said he expected the firm to increase its operating margin beyond the current 7.3% and increase net revenues for the full year.
Last week Arcadis announced the promotion of Greg Steele as group executive for the firm's Asia Pacific business. Steele had previously been chief executive of Arcadis' Australia Pacific operation.