Chancellor to deliver latest spending updates at noon as industry buckles under rising energy costs
Today's spring statement was not intended to be a major fiscal event - big spending announcements were not expected until this autumn's full budget.
But a rapidly escalating energy crisis, worsened by the impact of Russia's invasion of Ukraine, has put pressure on Rishi Sunak to act.
Household energy bills are forecast to rise by thousands of pounds this year – up to £4,000 by October, according to banking group Investec. This is adding to a worsening cost of living crisis, as taxpayers brace for next month's national insurance rise and inflation heading towards an eye-watering 8%.
This morning the Office for National Statistics announced that consumer price inflation, a measure of the cost of living faced by households, had risen to 6.2% in the year to February, above expectations and up from 5.5% at the start of the year and the highest figure for 30 years. Rising energy prices were the main driver behind the increase, the ONS confirmed.
The industry is also being put under strain by higher energy bills which are translating into price hikes for key materials including steel and bricks.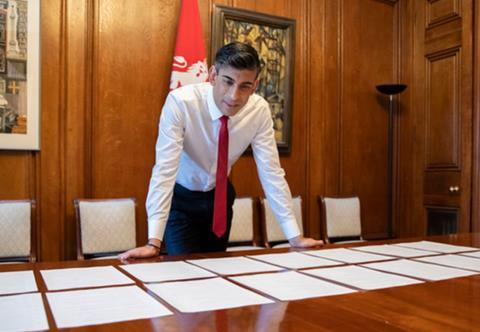 The chancellor has said that he will step in to help but, with the public coffers battered by two years of emergency pandemic support measures, his options are limited. Sunak may be starting to regret the slogan he has been most closely associated with since announcing the furlough initiative two years ago this month: "whatever it takes".
Sunak is expected to resist calls from Tory MPs to scrap plans to increase national insurance contributions for employers and employees from next month. The money will be used to address healthcare backlogs and to fund an overhaul of the social care system.
> Also read: Net zero at risk as global energy concerns from Ukraine war send green goals back down the agenda
He will instead increase the level at which workers start to pay national insurance to ensure that the poorest households are not hit by the new health and social care levy.
The crisis could offer up some opportunities for construction, however. It adds greater urgency to the need to make our homes more energy efficient, a cause which many in the industry have been championing for years. New energy projects have also been discussed by the government and could be in the mix today.
Here are a few things to look out for:
Cheap loans for energy efficiency projects
Sunak has told the government's new infrastructure bank to use some of its £22bn of funds to support housing retrofit projects, according to The Times. The paper said that the move would help high street banks to offer cheap loans for homeowners to install heat pumps, solar panels and other energy efficiency measures.
The bank, which is wholly owned by the Treasury, was opened in June last year and is chaired by former British Land chief executive Chris Grigg. It was intended to focus on transport projects and other public infrastructure schemes, not housing. But Sunak has said that projects which increase the UK's energy security, including retrofits, are within the scope of the bank's remit.
New power supplies
Boris Johnson has launched a drive to "rapidly accelerate" new nuclear projects, according to Number 10. The prime minister met leaders of the nuclear and construction industries on Monday to discuss ways to remove barriers to new developments so that reactors can become operational more quickly and cheaply.
He said the government wants a "thriving pipeline" of new nuclear projects and is reported to have told the meeting that he wanted nuclear power to account for 25% of the UK's energy supply by 2050. With total electricity demand set to double in the next three decades, that would mean many major nuclear projects will be needed.
But with business secretary Kwasi Kwarteng announcing the imminent phasing out of all Russian oil and gas imports to the UK, new energy supplies will need to be found within months. Look out for ways in which the government approaches this - it could mean more pumping of North Sea gas, or potentially fast-tracked energy schemes under Sunak's "project speed" initiative.
Fuel duty cut
It has been widely reported that Sunak is gearing up to cut fuel duty for the first time in 11 years. The tax, which brings in around £27bn each year, has been frozen since 2011, but the chancellor is under pressure to provide some respite from rising bills.
This measure is likely to be temporary and could be reversed if global oil prices stabilise. It will also come into conflict with the government's net zero commitments.
Taking this step could signal the start of a more general flexibility within government over the timeline for cutting emissions, something that some in the industry have voiced concerns about this year.
Sunak will argue that a stronger economy is vital if the UK is to respond to the threat posed by Vladimir Putin and the Russian invasion of Ukraine. "We will confront this challenge to our values not just in the arms and resources we send to Ukraine but in strengthening our economy here at home," he is expected to say.
"So when I talk about security, yes – I mean responding to the war in Ukraine. But I also mean the security of a faster growing economy.
"The security of more resilient public finances. And security for working families as we help with the cost of living."