Governing body says it is in 'close contact' with club about where 13 February game will take place
Tottenham Hotspur has opened up talks with Uefa about whether the club can play its Champions League game against Borussia Dortmund in February at its new home – provided Mace finishes it in time.
Under the governing body's Champions League regulations, clubs are normally required to play all their matches in the competition at the same venue – which in Spurs' case would mean Wembley as the club played all three of its group games in the competition at its temporary home, qualifying for the knockout phases last week.
Article 24.05 of the UCL regulations says: "In principle, a club must play all its matches in the competition at one and the same venue."
Yesterday the north London club was drawn against the German league leaders for the last 16 match with Spurs hosting the first leg on 13 February.
But the club could be handed a lifeline about the venue because of Uefa's "in principle" clause and in a statement on its website, Spurs said: "We shall provide a further update on the venue for our home leg soon."
A Uefa spokesperson told Building: "Uefa is in close contact with Tottenham Hotspur FC regarding this matter. A decision will be taken in due course and in any case before February 2019."
Asked if Spurs would be allowed to play the Borussia Dortmund at its new ground, providing it was ready, Uefa declined to comment. It also declined to comment on whether Spurs would be allowed to play any potential quarter final and semi final home ties at the new ground – if the stadium was completed after the tie against Dortmund.
At least one (Watford) fan wants Spurs to keep playing at Wembley…it's a nice earner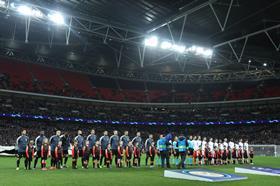 While Spurs fans are getting increasingly fed up with having to put up with their temporary home – just over 41,500 turned up for the last home game on Saturday against Burnley meaning the venue was less than half full – one fan has told Brent council he wants the club to keep on playing there for as long as possible.
"I would be very happy if Tottenham Hotspur continue playing at Wembley stadium beyond December 2018, as my household hires out our driveway and has thus generated plenty of income from the matches they have played there since the 2016/17 season," one local resident says.
In comments invited on Wembley's planning application to increase capacity should Spurs end up staying at the ground for the whole of the season, the resident adds: "On virtually every occasion Spurs have played there, we have received a booking for our driveway."
Most of the 56 comments are against the application but the resident is hoping Spurs will be forced to carry on playing at Wembley for the rest of the season: "As a supporter of Watford who attends virtually all of the club's away matches, I am hopeful that our away match v Spurs on Wednesday 30th January 2019 will be played at Wembley, as I relish every opportunity to attend matches there, and you never know, maybe I will finally get to see Watford win a match at Wembley, where they have lost on each of the three previous occasions I have seen them play there."
The resident adds: "Also, playing the match at Wembley would mean that I would be home quicker than if the match was played at White Hart Lane."
And the resident hopes Chelsea owner Roman Abramovich has a change of heart after he mothballed plans for Chelsea's new stadium earlier this year – and that the west London run into the same sort of problems Spurs have endured.
"Hopefully Chelsea will play two or three seasons (maybe even more if they encounter problems rebuilding Stamford Bridge like Spurs have with White Hart Lane) at Wembley within the next few years."
Last week, Spurs confirmed that its game against Manchester United on 13 January had been switched to Wembley because the 62,000 seat venue is still not ready. Building revealed earlier this year that faulty wiring is to blame for the delay which will be at least four months by the time it opens.
And in the update, the club's chairman Daniel Levy told fans that he couldn't put an opening date on the new ground.
The club is due to put out another bulletin on the opening date once it has met contractors the week beginning 7 January.
Last month Wembley National Stadium applied to Brent council to get the capacity at the ground lifted – if Spurs is forced to play at the venue for the rest of the season. In documents submitted to the council, it wants seven games – including Champions League fixtures – to be allowed to have a 90,000 capacity.
In an 82-page planning statement, Wembley National Stadium asked Brent planners for the issue on capacities "to be resolved swiftly to provide THFC with certainty in their preparations for the remainder of the season".
Comments on the application closed last Thursday. No date has been given when Brent will make a decision but the timeline on the application has given 11 February – two days before the Dortmund game – as the expiry date meaning a decision is likely before then.