Speculation grows that club has 24 November game against Chelsea in its sights as stadium's opening fixture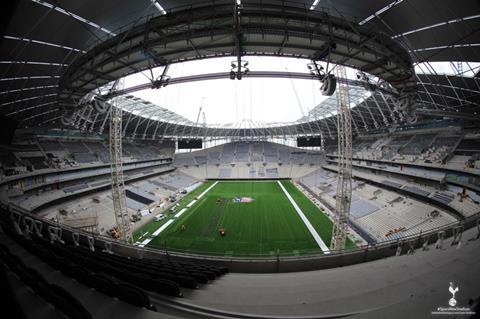 Work to start laying the pitch at Tottenham Hotspur's late-running stadium will begin this week as the club eyes a completion date before Christmas.
Building understands that Mace will today begin overseeing the process to lay the pitch – seven weeks after the club first admitted the 62,000-seat ground would miss its opening deadline.
The pitch takes up to four weeks to bed in and lose the visible dividing lines between each section, although it is understood to be playable after a fortnight of being laid.
It will be installed on three retractable trays that will slide back underneath the ground's South Stand when NFL games are played on the artificial turf that was fitted below the grass pitch earlier this summer.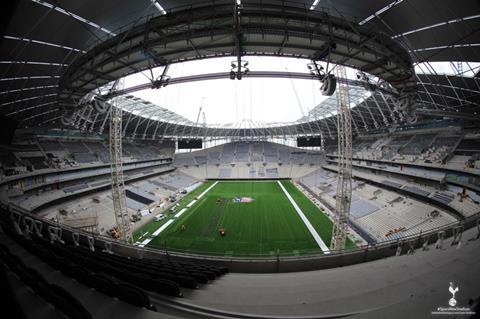 The club has not yet said when the stadium will be ready and has only given details of where its October Premier League home fixtures will be played with its final game of the month, against Premier League champions Manchester City, being played at its temporary Wembley stadium home four weeks today.
But news the pitch is going in this week raises speculation Spurs has pencilled in an opening date before Christmas.
Last week the club's manager Mauricio Pochettino said he was "confident" the stadium would be ready this year.
The club, which has already announced that its home Champions League games are being played at Wembley, has only one Premier League game at home in November – a high-profile clash against London rivals Chelsea on the 24th. It has four games at home in December including the Boxing Day fixture, against Bournemouth.
Thousands of workers have been working around the clock for months, with the site operating 24 hours a day, seven days a week as Mace battles to get the stadium finished.
Mace declined to comment but in August the firm's chief executive Mark Reynolds told Building faulty wiring was behind the delay with the stadium having been due to host its first competitive fixture against Liverpool in the middle of last month.