Property developer looking to rejig portfolio following strategic review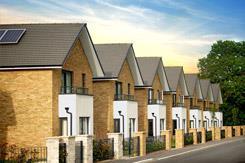 St Modwen confirmed today it has kick-started a limited sale of assets following a strategic review initiated by chief executive Mark Adams, who joined the property developer just over a year ago.
Following completion of the review earlier this year the firm announced in June that it would be looking to grow its housebuilding operation, rebalance other aspects of its portfolio and sell off non-growth assets.
In a trading update the group said it had so far sold assets worth £20m of the £100m-worth of sites earmarked for disposal, out of a total property portfolio worth £1.5bn.
"We are now evaluating the remainder of the portfolio to establish the optimum approach to disposing of the remaining properties," it added.
St. Modwen said its residential operation was currently active on 16 sites across the UK, describing demand as "robust", with sales volumes for new homes in the year expected to be in line with expectations, up by around 43% on 2016 to 694 units.
The group said it planned to announce its full-year results on 6 February 2018.