Stanhope JV has recieved planning for a second building at Ruskin Square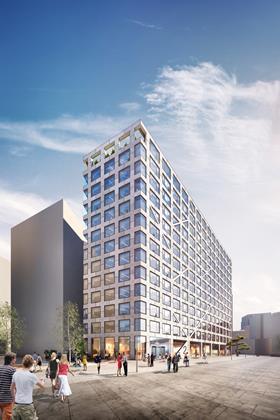 Developer partnership Stanhope and Schroder UK Real Estate have received planning permission for a second building at Ruskin Square in Croydon.
Designed by Make the 13-storey, 250,000 sq ft building is part of a £500m scheme adjacent to East Croydon station and will house 200,000 sq ft of office space with retail and dining at the ground level.
The nine acre speculative development has already seen its first 180,000 sq ft building topped out and has a residential building on site which is due for summer completion.
Stanhope development director Jason Margrave said the partnership was delighted to have secured consent for the second building.
He added that Building One's structural steelwork is due to complete within the next few weeks, meaning that it is on track for completion at the end of 2016.
James Lass, fund manager at Schroder UK Real Estate Fund, said: "This latest planning milestone allows us to maintain and build upon the momentum that is building at Ruskin Square.
"With occupiers increasingly seeking high quality offices in non-core London locations with good public transport access, Croydon is becoming a go-to destination."