Joint developers Vinci and St Modwen go unconditional on 57 acre regeneration scheme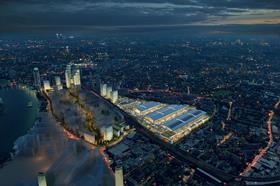 Work will start this summer on construction of the £2bn New Covent Garden Market in Nine Elms, London, the joint developers Vinci and St Modwen have said.
In a joint statement the developers said they had gone unconditional on the 67 acre scheme, which comprises 500,000 sq ft of new state-of-the-art market facilities, three residential neighbourhoods comprising 3,000 homes, 135,000 sq ft of offices and 100,000 sq ft of retail, leisure and community facilities.
Enabling works will begin on the new market facilities this summer, Vinci and St Modwen said.
The New Covent Garden Market scheme is the largest in the Nine Elms regeneration area, which also includes the new American Embassy and the Battersea Power Station redevelopment.
Bill Oliver, chief executive of St Modwen, said: "This latest milestone enables the start on site of this major transformational project which is central to the Nine Elms Regeneration area. It will deliver a substantial positive economic impact in terms of employment, housing, and investment for London."
Bruno Dupety, chairman and chief executive of Vinci, said: "We are looking forward to starting on site to get this exciting project underway. It will transform this area of central London for those who live and work there, in particular the market facilities."