Severfield due to announce 2020 results in June while pandemic takes gloss off record year at Billington
The country's two listed steelwork contractors have both conceded they will not emerge unscathed from the coronavirus outbreak despite the bulk of the pair's sites staying open.
Severfield, which is working on the Google headquarters building in London's King's Cross, said it was "experiencing some disruption to its operations, both on its sites and within its factories, as a result of the outbreak".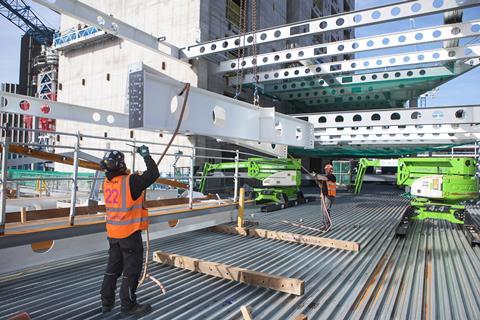 It said the crisis would not hit its 2020 results but admitted: "For the year ending 31 March 2021, it is anticipated that the extent of the overall disruption from covid-19 will inevitably have an impact on group profitability."
The firm, which last year improved pre-tax profit to £24.7m from £22.2m on revenue flat at £275m, declined to say whether it had furloughed any of its employees nor whether it had imposed the sort of pay cuts seen at other contractors.
According to last year's annual report, the firm had 1,274 staff and a wage bill of £56m. It promised more details when its 2020 results are published on 17 June.
In an update to the City this morning, the firm did say it was deferring tax payments including PAYE, VAT and National Insurance.
It added that it had delayed quarterly loan repayments to its lenders, which had been due last month and in June, until September.
Severfield said the majority of its sites remain open and its factories, which include those at Dalton and Sherburn, both in North Yorkshire, were up and running but added: "It is not possible to accurately predict either the duration of the disruption or its impact on the FY21 outturn."
The firm said it had access to more than £50m in cash and that its order book at the beginning of the month stood at £293m compared to the £323m on 1 November last year.
Meanwhile, Billington said it had furloughed some of its staff after workloads fell because of the pandemic.
Chief executive Mark Smith admitted a record set of results had been overshadowed by the crisis. He added: "We are delighted with the results we have achieved in 2019, an exceptional year for the group. However, 2020 has been dominated by the impact of the Covid-19 pandemic.
"Billington has been able to remain operational, with the majority of construction sites open and customer projects continuing after some temporary interruptions."
But he admitted: "It remains uncertain whether we will remain unhindered by any issues with our supply chain as the pandemic reaches its peak and moves to resolution."
Billington has deferred VAT payments, suspended its dividend, imposed a hiring freeze and agreed additional banking facilities.
Revenue last year was up 36% to £105m with pre-tax profit up 20.4% to £5.9m. Its cash balance at the year-end was £17.9m.