Regional builder sees double-digit hike in turnover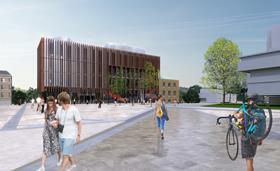 Regional builder Stepnell saw profit and turnover both head north last year.
The Warwickshire-based contractor, which earlier this year hired the former boss of Bam's UK construction business as a director, said pre-tax profit jumped to just over £2m in the year to March 2018 from £787,000, while revenue was up 15% to £146m.
The firm works on schemes in central and southern England and during the period opened a new office in Southampton.
Stepnell joint managing director Tom Wakeford said: "Despite general market uncertainty, Stepnell has had a good year with the business securing more profitable, high quality projects and expanding our geographic reach."
In its report and accounts filed at Companies House, the firm added that "well documented problems with some national contractors as well as the demise of some regional competition have also provided opportunities".
The firm, which carries out jobs with a value up to £30m, is currently working on a new £9m technology building for Nottingham Trent university and is expanding the students union building (pictured) at Leicester university under a £12.5m deal.