UK companies wanted to work on multi-billion pound projects in Swedish capital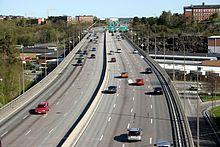 The City of Stockholm is hosting a seminar in London later this month to highlight lucrative investment opportunities for UK construction firms looking to work on schemes in the region.
According to the Swedish Trade & Invest Council, the country is spending €64bn (£56bn) on road and rail projects between now and 2025, including a new route for the E4 motorway past the country's capital worth €3.1bn (£2.7bn) and featuring one of the longest road tunnels in the world.
The country is also set to spend €150bn (£133bn) on building 700,000 new homes and office space by 2025, and wants international expertise to deliver projects.
Featuring speakers from Stockholm council and Swedish trade bodies the seminar is being held at the Park Plaza Hotel, Westminster Bridge, London, on 18 May.
It is aimed at developers, consultants, contractors, construction and infrastructure companies.