Fit out contractor was taken private earlier this year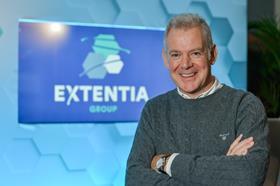 Fit out firm Styles & Wood has been moved into a larger business under a rejig carried out by the businessman who snapped it up late last year.
The Manchester-based firm was bought for £42.5m four days before Christmas and taken private by Central Square Holdings, an investment vehicle of Steve Parkin once linked to a takeover of Championship club Leeds United.
The deal saw Styles & Wood, which is working on a deal to fit out the new offices of the taxman in Liverpool, become part of a group that also owns Leeds-based Southerns, a £44m turnover furniture, fittings, and equipment specialist, in which Central Square Holdings has a controlling stake.
Styles & Wood chief executive Tony Lenehan (pictured), who has been boss of the firm since he joined from Bovis Lend Lease nearly eight years ago, is now chief executive of the enlarged group which has been called Extentia.
The group now includes 11 businesses, which along with Styles & Wood and Southerns, also includes a FM specialist, Concourse, furniture supplier Ralph Capper and engineering consultant GDM.
Lenehan said the spread of businesses was intended to bulletproof the firm against the cyclical nature of the property and construction sector, labelling the model as "resilience through diversification".
Lenehan, who also spent six years at Carillion where he was managing director of its UK building arm before leaving in 2007, admitted switching from heading up a plc – Styles & Wood delisted from the Stock Exchange in March – to becoming a private firm meant decisions could be taken much more quickly.
"In a private firm [you're] dealing with [a] much more rapid pace, in terms of decision making and actually being able to do things at a much quicker pace."
The enlarged group is now expecting a one quarter hike in revenue with income for the year ending June 2019 set to come in at around £230m, up from the £185m last time.
He said its best-known brand, Styles & Wood, is looking at carrying out more work in the capital with bases in the City at Smithfield as well outposts in Dartford and Gatwick.
"Styles & Wood had around 15 to 20 full time equivalents in London. The new, broader group has now got around about 150 full time equivalents [in London]."
Extentia Group has more than 700 employees across 12 UK and Ireland offices.
And he said the new business was looking at landing spots on more public sector frameworks. He said: "Every single opportunity we've pursued has turned into real work. We picked frameworks we understood. Historically we've had involvement with public sector frameworks that come to nothing."
The firm has been on an off-site framework for the Education and Skills Funding Agency for a year and is carrying out work in eight regions in a joint venture with modular specialist Extraspace Solutions.