Barbour ABI warns hundreds of wind farm schemes could be in jeapordy after government decision to close the Renewables Obligation early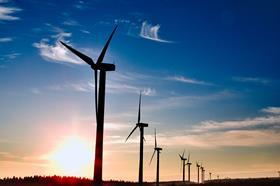 Wind farm developments worth £6.4bn have been put in jeopardy by the government's decision to close the Renewables Obligation (RO) for onshore wind schemes next April a year earlier than expected, analysis by data provider Barbour ABI has revealed.
Energy secretary Amber Rudd announced last month that new onshore wind farms will be excluded from the existing funding scheme - which itself is funded by levies added to household energy bills - from 1 April 2016.
All projects that already have planning permission could still get built, however, under a proposed "grace period".
Making the announcement in June to close RO, Rudd said: "Onshore wind is an important part of our energy mix and we now have enough subsidised projects in the pipeline to meet our renewable energy commitments."
According to the analysis by Barbour ABI, which is owned by Building's publisher UBM, there are 338 proposed wind farms that are yet to receive planning permission, putting them at risk.
Michael Dall, lead economist at Barbour ABI, commented: "There are 5,000 active wind turbines already in use across the UK, producing five per cent of the total amount of national electricity.
"The Government has a target of 30 percent of UK electricity coming from renewables by 2020, and must believe that other areas of renewable energy should be prioritised over onshore wind projects to receive future subsidies and investment before the 2020 target year.
"In 2014, the Government paid out £800 million in subsidies for onshore wind farm projects and must believe the country now has enough turbines for the short and long term future."