KPMG forecasts buoyant year, but says power will be with the supply chain due to rapid pick up in demand and shortage of capacity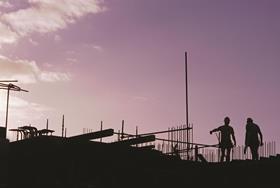 Construction firms should expect a buoyant 2014, but the first half of the year is likely to remain tough for main contractors as the supply chain dictates terms, analyst KPMG has said.
In a market forecast for the New Year, Richard Threlfall, KPMG's head of infrastructure, building and construction, said higher GDP projections of 1.4% for this year and 2.4% for 2014 were indicative of the pace at which the recovery was accelerating and that the promise of a sustained uplift in the economy would drive growth across construction.
He said: "The construction industry usually overreacts like no other to the promise of better times. That reaction can already be seen in our housing market where demand is far outstripping the ability of housebuilders to deliver but it will be seen soon across other industry segments as well."
However, Threlfall had a warning for main contractors: "We predict the first half of the year will be tough, not because demand will be slow but because it will pick up too quickly for an industry which has lost 20% of its capacity over the last five years and where consequently the supply chain is weak.
"At the moment we are observing shortages of bricks, blocks, timber, aggregates and also of skilled labour across the sector.
"More capacity in the supply chain will be opening up every day, but it will be the second half of the year at the earliest before supply catches up with demand.
"Until then the power will remain with the supply chain. Tier 1 contractors will continue to feel the squeeze, particularly those who chased volume during the recession and were left with wafer-thin margins.
"We don't expect any more major failures - those who survived the recession are all too big to fail - but life will remain tough in the short term."
Threlfall added that the availability of finace was no longer such major constraint on project delivery and that "we expect during the year to see increasing breadth and depth in financing capacity in the market".
"There are already some signs of competition between bank and capital markets solutions re-emerging on some projects, though we are long way off the rock-bottom pricing of 2006/7 and few hope we head back to that unsustainable territory.
"Within the capital markets, expect growing interest from direct investors, including insurance and pension funds, putting pressure on infrastructure funds.
"What does seem clear is that by the end of next year we will have a much more buoyant and competitive market across infrastructure and construction, with a clearer sense of pipeline, especially in energy, and more opportunities across all sectors.
"By that point some nervousness about the impending election may creep in but whether that creates another hiatus in an industry that historically lurches from boom to bust remains to be seen."