Supreme court throws out objection to Aberdeen bypass scheme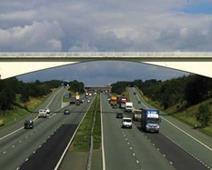 A £395m Scottish road project has been given the go-ahead by the Supreme Court after years of legal wrangling.
The Aberdeen Western Peripheral Route (AWPR) scheme will see a large trunk road constructed around the outskirts of the city plus a "Fastlink" connecting the town of Stonehaven to the new road.
The scheme was challenged by William Walton, chair of campaign group Road Sense, in 2010 on the grounds that the government did not follow the correct procedure when devising the route.
Today, the Supreme Court threw out Walton's objections to the scheme in a unanimous decision.
Michael Levack, chief executive of the Scottish Building Federation, said: "A final decision on the Aberdeen Western Peripheral Route has been a very long time in coming. For the local construction industry, today's announcement is fantastic news.
"Not only will this project offer major opportunities during the construction phase, it also unlocks the future development of Aberdeen and Aberdeenshire for years to come."
Scottish first minister Alex Salmond said the procurement process to hire firms to work on the project would start within days.
He added: "The minority who have held up the AWPR have had many days in court – not to mention a protracted public local inquiry – and they have lost on every occasion."
The project is due for completion in 2018.