AR Design Studio wins planning permission for Hidden House
AR Design Studio has secured planning permission for a bespoke four-bedroom family home designed to blend in with its natural Surrey Hills surroundings using the same principles as World War One 'dazzle ships'.
The practice's 500 sq m Hidden House is situated in the grounds of a disused riding school near Guildford and uses the technique of dazzle camouflage – which creates illusions to break up the appearance of a solid mass, a tactic previously employed by the Royal Navy.
The Hidden House's solid walls are created from four board-marked concrete pods that are oriented towards particular views of the surrounding countryside, a designated Area of Outstanding Natural Beauty.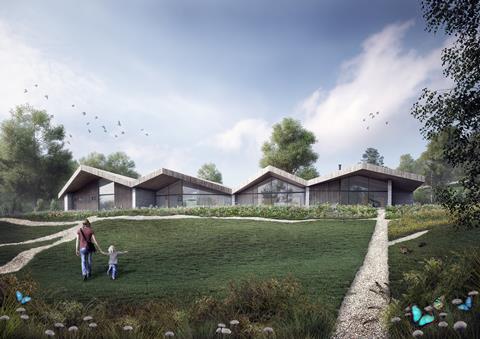 The largest pod houses sleeping quarters, while the second provides utility and storage. A third pod hosts a large kitchen and dining space with the fourth providing the snug and the swimming pool facilities.
Living and relaxing spaces are located in what AR Design Studio describes as "anti-spaces" between the pods, which the practice said delivered "open and closed zones" between the different parts of the house.
The practice said the Hidden House was due for construction in summer next year.
Dazzle camouflage in WWI
Used by the Royal Navy in the Great War, the camouflage consisted of complex patterns of geometric shapes in contrasting colours, interrupting and intersecting each other. The intention was not to conceal, rather to mislead the enemy about a ship's course and so take up a poor firing position.