RICS and ICES enter into a 'historic agreement' to work more closely together.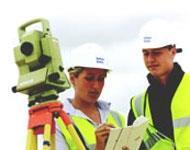 The UK's two leading surveying institutions have entered into a "historic agreement" to work more closely together.
The presidents of the Chartered Institution of Civil Engineering Surveyors (ICES) and the Royal Institution of Chartered Surveyors (RICS) signed a memorandum of understanding recognising the role each plays in "supporting the surveying profession" in the UK and overseas in a move which was welcomed by the Construction Industry Council (CIC).
ICES president Alan Barrow said: "This historic agreement builds on the unique knowledge and expertise that each organisation represents in different sectors of surveying. It sets aside decades of friendly rivalry and establishes a framework whereby we can move forward through genuine co-operation and joint initiatives within the engineering community."
RICS president Alan Collett said: "The agreement is the result of a long series of meetings and discussions between senior members and staff, and will provide a solid platform for future collaborative working. Both institutions have multiple opportunities for knowledge sharing and capacity building in fast developing and new exciting sectors such as building information modeling (BIM)."
The institutions vary dramatically in size but "share a common interest in furthering the profession of surveyors working in civil engineering", they said.
RICS has members covering a broad range of surveying specialisms, while ICES has members working specifically in the commercial management and geospatial engineering aspects of civil engineering projects.
The agreement was signed at the Westminster headquarters of the RICS last month, it has emerged.