Latest quarterly RICS survey says profession worried about financial health of projects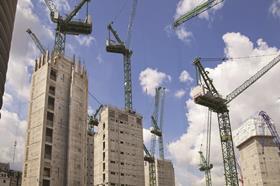 Surveyors are reporting that workloads are slowing down because of worries over who will bankroll projects.
Four of out five respondents to the latest RICS UK Construction and Infrastructure Market Survey said financial problems such as access to bank finance, cashflow and liquidity were putting the brakes on building work – the joint highest reading in five years.
Planning regulations and other red tape issues were also named as reasons for activity stalling.
The survey for the second quarter of this year said the number of surveyors reporting an overall slowdown in housing activity had increased with 25% reporting a rise in private housing activity in the second quarter compared to 36% between January and March.
And sentiment for industrial workloads was at its weakest for five years, the RICS added.
The survey said all regions had been hit by a slowdown with the Midlands and East of England worst affected.
But there was better news in infrastructure with 11% more contributors reporting a rise rather than a fall in activity with rail, road and energy work all expected to grow over the next year while optimism remained in positive territory for public sector workloads.