Government proposes offering project's backers a guaranteed fixed price for electricity generated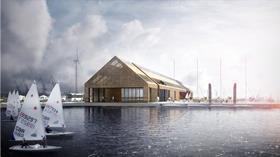 The Department for Energy and Climate Change (DECC) has launched a consultation on its preferred method for funding the proposed £850m Swansea Bay Tidal Lagoon power-generation scheme.
It argues that a contract for difference arrangement with developer Tidal Lagoon Power (TLP), whereby the government will guarantee a fixed price for the electricity generated, is the best way to ensure its viability.
DECC said the project could act as a test case to explore the possibility of similar tidal power schemes elsewhere in the country being funded by the same arrangement.
TLP's plans would see the creation of a six-mile sea wall in Swansea Bay that would feature turbines capable of generating around 0.5 TWh of electricity a year - enough to power almost 120,000 homes.
DECC said entering into bilateral negotiations for a contract for difference with TLP would allow it to carry out a full value for money assessment on the plans, and that a lack of other "sufficiently developed" tidal lagoon plans meant that a competitive process for running the such a facility was not appropriate.
Energy secretary Ed Davey said tidal lagoons had the potential to provide 8% of the nation's electricity needs, replacing fossil fuels with clean, reliable home-grown electricity.
"The Russia-Ukraine crisis showed us the importance of having our own supplies of energy, whilst scientists have made it clear that we need to curb our emissions and move to a low-carbon economy as quickly as possible," he said.
The Planning Inspectorate is due to give its recommendations on TLP's proposals by March 10, with a secretary of state decision due by mid-June.
The contract consultation is open for comment until February 20. It can be found here.