Work on £1.3bn scheme now set to start in 2018, but construction schedule still not confirmed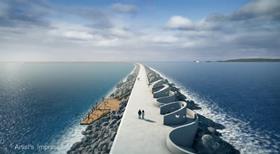 The £1.3bn Swansea Bay Tidal Lagoon has been delayed by another year, its developer has confirmed.
Construction had been expected to start this spring after the scheme obtained a development consent order in June 2015, but work has again been pushed back as the government continues to mull over whether or not it will subsidise the project.
Work on the tidal lagoon was originally anticipated to start in spring 2016.
It comes after the government commissioned a review into the viability of tidal lagoons in February last year.
The review, led by former Conservative energy minister Charles Hendry, was filed to business secretary Greg Clark last month. Ministers are expected to respond to the review before the Budget in March.
A spokesperson for Tidal Lagoon Power said spring 2018 was the anticipated start date for construction, but added that the construction schedule would not be confirmed until negotiations with government over a strike price for the project have finished.
It is currently unclear when those negotiations are expected to end.
It has previously been reported that Tidal Lagoon Power was looking for a strike price of £168 per megawatt hour (MWh) for its first lagoon, which would fall to £130/MWh and £92/MWh for Lagoons 2 and 3 respectively, with an average strike price of £111/MWh.
In comparison, the government has received criticism for the strike price of £92.50/MWh it agreed with EDF for the Hinkley Point C nuclear power station.
Tidal Lagoon Power has said the 320MW scheme is a "pathfinder project" to provide a "scalable blueprint" for more tidal lagoons across the UK, including a much larger 2.7GW lagoon in Cardiff.