Ecobuild latest: Phil Birch wins UK-GBC and PRP's sustainability award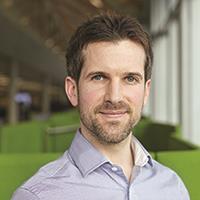 Sweett associate director of sustainability Phil Birch has won the 2014 Rising Star Award for driving change and innovation in sustainability.
The award is run by UK Green Building Council and PRP Architects in memory of Mel Starrs, a prominent built environment practitioner and associate director at PRP, who passed away in July 2012.
The judges said: "Birch impressed by demonstrating the ability to find the common ground between sustainability, social and commercial considerations, and communicate with a technical and non-technical audience".
"He engages with a number of groups such as the Green Construction Board and UK-GBC, and has produced a wide range of articles, publications, impact assessments, guidance documents and technical tools that act as a catalyst for change by promoting sustainability in a way that makes it easy for business to digest."
Steve Cook, principal sustainable development manager for Willmott Dixon, was highly commended by the judges.
Other finalists included Martin Brown, Fairsnape; Wilf Meynell, Wilf Meynell/Studio Bark and Carolina Passos-Anishetty, BAM Construct UK Ltd.
Phil Birch was also recognised in Building's 50 sustainability stars 2014.