Consultant expects to see amount of overseas work soar in wake of £24m deal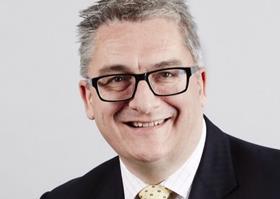 Sweett chief executive Douglas McCormick has admitted he doesn't know if the name will stay after the firm ended nearly 90 years of independence this morning following its takeover by Canadian giant WSP PB.
Formal completion of the £24m deal is expected to be tied up in early July and will see Sweett's 600 staff transfer to a new owner that has close to 35,000 employees.
McCormick (pictured) said he hoped the Sweett name would stay but added: "It's a discussion we're yet to have. Our brand is very strong and well known. Clearly there are things we do that they don't. Our main business is quantity surveying and WSP are mainly engineers."
The bulk of Sweett's £55 million business is carried out in the UK with around 30 staff dotted around a handful of offices overseas including New York, Madrid and Paris.
But McCormick said he expected turnover from the UK and abroad to become a more even split over time.
"I'd like the ratio to be nearer 50:50. WSP has 500 offices in 40 countries. It's a ready-made place for us to expand into."
Among the opportunities, he said, were those in Canada and across the border in the US where he predicted a spending spree following this November's US election.
"Post the presidential election, the US needs to start spending money on infrastructure. Moving into our new parent's backyard gives us great opportunities."
McCormick, who joined the business last March, said he would be staying to help oversee the integration but added: "The intention is I transfer with the purchase but beyond that I have no clarity."
And on Sweett keeping staff, he added: "Clearly there might be efficiencies over time but this is about growth, not cutting jobs."
During his 15 months in charge, McCormick has overseen the firm's withdrawal from the Middle East – expected to be completed at the end of this year bar one outstanding contract in Saudi Arabia – and the sale of its Asia Pacific business to rival Currie & Brown.
The pair are arguing over how much Currie & Brown should pay caused by the impact of currency exchange rate changes on the agreed sale price. Currie & Brown wants a £1.7m reduction while Sweett believes the price should be cut by just £500,000. The case has gone to arbitration with a decision expected by early next month.
In February, Sweett was also ordered to pay £2.3m for a bribery offence related to its Middle East division following a Serious Fraud Office (SFO) investigation.
McCormick, who said discussions with WSP about a possible deal began earlier this spring, admitted the tidying up of its business had made it more of a takeover target than before. "The fact that we've cleared the decks made us more attractive. We're clean and compliant but we've paid a high price for doing so, particularly in terms of the SFO."
UK work is split evenly between the public and private sectors and McCormick said bidding for schemes at home was up 10% with the firm targeting several frameworks being let by public sector clients including the NHS, Network Rail and the Ministry of Defence.