Firm says underlying profit and income both up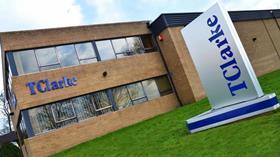 Electrical contractor T Clarke said it expects to post an improved set of figures when it publishes its 2017 results next month.
The firm said underlying pre-tax profit would be around £6.5m – up £300,000 on 2016's figure – while income would be in the region of £310m, a hike on the £279m posted the year before.
It said its forward order book at its year end on 31 December was £337m compared to £330m in 2016.
In a trading update, the firm added: "[The forward order book] has eased back from the record high reported during the course of 2017, a reflection of our selective approach to tendering rather than lack of opportunities."
Chief executive Mark Lawrence said: "We are acutely aware of the risks associated with our industry and the damage which can be caused by bidding at unrealistic levels."
Lawrence also said the group did not expect any "adverse" impact from Carillion's collapse more than two weeks ago.
It has previously said that it expects any financial hit from the contractor's implosion to be less than £100,000. T Clarke had been working as a subcontractor to a Carillion team revamping army bases across southern England.
T Clarke said its finance director Martin Walton, who joined the firm in 2007, was leaving and being replaced by Trevor Mitchell whose CV includes stints at Balfour Beatty and Kier.
The firm will release its 2017 results on 27 March.