M&E specialist sees record order book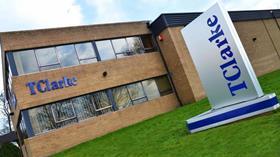 M&E specialist T Clarke hit financial forecasts predicted by the group last month, increasing annual turnover in 2017 by 12% to £311m and pre-tax profit by 5% to £6.5m.
The group's order book stood at a record £337m at the year-end of 31 December 2017, up 2%. It said it aimed to increase its underlying operating profit margin in the medium term to 3%, up from the current level of 2.3%.
London and the South East continued to be the largest contributor to turnover, up 24% to £177m.
The firm reported an underlying profit of £8.5m, an increase of 183% on the previous year, as jobs, including work on Foster + Partners' Bloomberg building, built by Sir Robert McAlpine, finished, releasing profits. Schemes the firm is currently working on in the capital include Multiplex's 22 Bishopsgate building in the City and the S9 building at the Stratford International Quarter in east London being built by Lendlease.
Outside the capital, the firm's South West operation was awarded the first M&E package for technology firm Dyson's new global technology campus in Wiltshire.
New project wins secured since the year-end include work on 150 Bishopsgate, a 43-storey residential and five-star hotel being built by Lendlease and designed by 22 Bishopsgate architect PLP.
T Clarke said it had seen high levels of quality tender opportunities in 2017 "and we were able to expand our core client base and entered into direct negotiation on a number of key projects, rather than being exposed to a competitive tender".
The firm's chief executive Mark Lawrence said: "Our financial and strategic strength is allowing us to invest for future growth in our markets, driven by investments in infrastructure and the digital world."
The acquisition last August of building controls specialist Eton Associates for £2.6m added what it called "a comprehensive digital, data and controls operation" to its core M&E operation, while it also built a £1m prefabrication facility at Stansted in Essex during the year.