But starts and completions in London have slowed, according to new data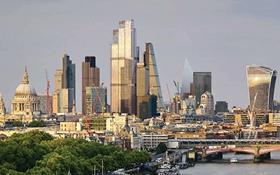 A record number of tall buildings are under construction in the capital, according to New London Architecture.
The fifth London Tall Buildings Survey, carried out by New London Architecture (NLA) and property consultants GL Hearn, said there were 115 schemes that go higher than 20 storeys currently being built across the capital.
Despite signs of a slowdown, the findings for 2017 show London has 510 towers in the pipeline, including the 115 that are under construction, compared to 455 and 91 respectively, in 2016.
Since the first report in 2014, 122 tall buildings have been completed and a further 96 are expected to be finished during the next two years.
Peter Murray, chairman of New London Architecture said: "We continue to see a steady increase in the number of tall buildings coming forward and with London's population continuing to increase and the demand for new homes only getting higher, our view remains that that well designed tall buildings, in the right place, are part of the solution.
"Uncertainties and challenges to deliver these tall buildings remain, which is perhaps why we are seeing a slight slowdown in the in the number of applications, construction starts and completions. However our reports over the past five years show us in the right places. Towers allow us to use the finite resource of land very efficiently."
More than 90%, or 458, of the tall buildings coming forward are residential and have the potential to deliver 106,000 new homes.
The build to rent sector has significantly increased its stake in the tall tower sector, with data showing that 30% of the proposed schemes in 2017 were build to rent, compared with none in 2013.
The rate of applications was down 10% from 2016 and 35% from 2015, although this was considered a "bumper" year due to the application of Greenwich Peninsula for more than 40 tall buildings.
Completions also dipped, with only 18 tall buildings finished in 2017, representing a 30% drop from 2016 when 26 were completed.
There was also a 25% fall in the number of tall buildings coming out of the ground, with work only starting on 40 projects in 2017.
Almost a third of the entire pipeline is in outer London, in zones three, four and five, particularly in opportunity areas and around transport connections, which are considered suitable locations for tall buildings in principal.
Bromley and Waltham Forest have tall buildings in the pipeline for the first time. This leaves just seven boroughs without any towers – Bexley, Enfield, Havering, Hillingdon, Merton, Kensington and Chelsea, and Richmond.
Looking ahead NLA said it expected locations like Bexley Riverside (Bexley), Meridian Water (Enfield), Hayes (Hillingdon), Kensal Rise (Kensington and Chelsea) and Mordon (Merton) to see some tall buildings proposed in the future given the nature of these locations.
NLA also expected Crossrail to act as a catalyst in bringing forward development along its route, especially in outer boroughs such as Ealing, Redbridge and Newham.