T&T have agreed a new five year £80m revolving credit facility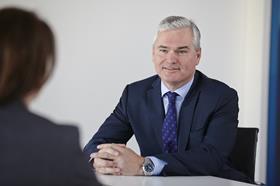 Turner & Townsend has secured a new £80m finance package from a combination of Lloyds Bank Commercial Banking, HSBC and Royal Bank of Scotland.
The five-year revolving credit facility will see each bank provide £26.7m of additional working capital for the business as it looks to expand global footprint and invest in new services and capability.
Vincent Clancy, chief executive at Turner & Townsend, said the extended banking arrangements, combined with the switch to a limited liability partnership last autumn, would allow the company to invest in expansiona and delivering better results for clients.
The firm reported record turnover of £380m for 2014/15, up from £350m for 2013/14. It has grown at an average of 13.1% per year over the past four years.
Richard Townsend, relationship director at Lloyds Bank Commercial Banking, said: "The impressive growth of Turner & Townsend – with turnover up by 75%since 2010 – is a testament to the ability of the ambitious and experienced management team which has a combined 125 years of service with the company.
"The strategic direction of the business, and diversity of its global reach and service proposition, means it is ideally positioned to make the most of the flourishing construction market, in which demand for expert consultancy is soaring. Lloyds Bank is committed to supporting Turner & Townsend through its next stage of growth."
Dan Howlett, Head of Corporates at HSBC UK, said: "The HSBC team, led by Peter Helliwell and Tony Dean, is pleased to have worked with Turner & Townsend on its recent re-financing. The business has a truly global footprint, aligned to HSBC's, and we look forward to working with Vincent and his team in the coming years as the business looks to continue its impressive growth trajectory".
Ronnie Bowron, Relationship Director at Royal Bank of Scotland, said: "Royal Bank of Scotland has been the longstanding banking partner for Turner &Townsend and we are delighted to once again support its next phase of growth. The management team at Turner & Townsend have a strong and proven track record, and we wish Turner & Townsend every success for the future."