Chief executive says he is cautious about prospects for UK construction market following referendum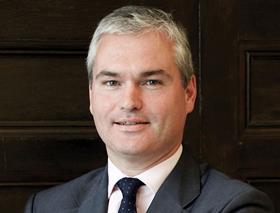 The UK's vote for Brexit in last month's referendum has already started to impact on consultants as developers delay, curtail or cancel projects due to funding issues, according to Turner & Townsend.
The consultant's chief executive Vince Clancy (pictured) told Building he was now more cautious about prospects for the UK construction market following the referendum, even as the firm this week posted a seventh successive year of turnover growth in solid financial results for the year to April 2016.
Clancy said: "We've seen some slowdown already [in the UK] with certain of our clients pausing. We've also seen a bit of a slowdown in the corporate market and we expect the level of uncertainty to have an impact.
"We've just got to deal with what evolves in front of us. The big driver for us will be some of the big infrastructure decisions out there from Hinkley through to airport expansion through to HS2."
In its results, Turner & Townsend posted an 8% rise in revenue to £409m, up from £380m the previous year, while pre-tax profit increased 6% to £38.8m, up from £36.7m.
The firm's UK and Ireland division grew faster than the overall business, posting a 14% jump in turnover.
Turner & Townsend also increased its number of equity partners to 85, up from 78 in March this year, while total headcount increased 4% to 4,278. The firm converted back to a partnership last October after abandoning long-held plans to float on the London stock exchange.
Clancy said the firm's strategy remained the same and it would continue to push its infrastructure business, which delivered a 16% increase in revenue, and look to service clients globally across their real estate portfolios. He added that the company was also focusing on the high-tech manufacturing sector where it sees a lot of potential growth globally and has made a large investment in order to gain market share.
Meanwhile, Clancy said he believed the worst was over for the firm's stuggling natural resources business with growth hopefully on the horizon.