Consultant appointed to programme manage major development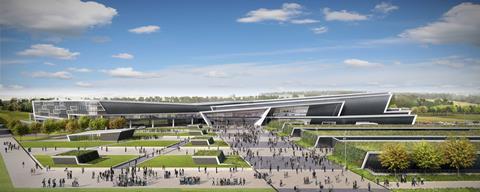 Turner & Townsend has been appointed programme manager on a £333m planned exhibition and conference centre in Aberdeen, which will be powered by an innovative energy centre and anaerobic digestion plant to provide sustainable power, heat and cooling for the complex.
Turner & Townsend (T&T) has been appointed on the 1.1 million sq ft project by developer Henry Boot, which is partnering with Aberdeen City Council on the scheme.
The development will incorporate a 12,500-capacity flexible arena space and three hotels and will complete in time for the Offshore Europe Conference in 2019.. The energy centre and anaerobic digestion plant will also supply an income stream that will help cover the cost of the development.
The masterplan for the site allows for future development of up to 650,000 sq ft of offices and 65,000 sq ft of leisure. T&T will project manage the first phase of construction and be responsible for the overall programme management of the masterplan.
It will be located off the A96 adjacent to Aberdeen International Airport and is expected to attract an extra 31,000 business tourists a year to Scotland and lead to an additional visitor spend of £11m per annum.
Andy Outram, director for Turner & Townsend, said: "We have supported Henry Boot throughout the whole bid process with the city council and we're looking forward to being a crucial partner in delivering this state-of-the-art public facility, which will compete on a world stage.
"Over the next three years, our role will be to overcome numerous challenges including construction so close to the airport, diverting large scale utilities and repositioning three existing watercourse to create a new park."
Nick Harris, director for Henry Boot Developments said: "Turner & Townsend has already proved its credentials as an expert partner, and we now look forward to working with them to build a centre that will play an invaluable role in driving sustainable economic growth for the area.
"The Bucksburn masterplan will deliver excellent architectural, urban and landscape design, providing a venue which is a key element of the business structure needed to promote Aberdeen as a World Energy City and the Energy Capital of Europe."