Consultant will draw up plans for £11bn third runway project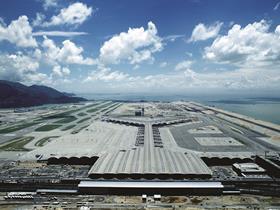 Turner & Townsend has been appointed to work up a masterplan for a proposed third runway at Hong Kong's international airport.
The three-runway system project, titled 3RS, will be built on a new man-made 650 hectare island to the north west of the original Sir Norman Foster-designed airport which opened in 1998. If given the go-ahead the project would take approximately eight years to construct.
The design and funding stages of the HK$136billion (£11bn) project are yet to be approved by Hong Kong's executive committee, although an environmental impact assessment was approved late last year.
Speaking about the appointment Nick Townsend, managing director of North East Asia, Turner & Townsend, said: "Having worked closely with the Airport Authority since 2011, we were able to adopt an integrated approach to this scheme by packaging together risk management, programming and procurement strategies, and mobilising our team of experts quickly."
"As a globally connected, independent consultancy, we look forward to harnessing both our extensive global aviation expertise with our significant local insight to drive exceptional outcomes for the programme. We are delighted to be playing our part in ensuring Hong Kong's status as an international and regional aviation hub."
Turner & Townsend's appointmemt comes as the Airports Commission closes its public consultation on options for expanding the UK's airport capacity today.
The commission invited the public to comment on plans shortlisted last year which include the expansion of either Heathrow or Gatwoick airport.