Birmingham predicted to see 5% rise this year before jumping even further in 2022
Major UK cities are set to see the cost of construction soar over the next two years, a report from Turner & Townsend has found.
The firm's International Construction Market Survey (ICMS) said the labour shortages and ongoing disruption to global supply chains from covid-19 were being exacerbated by the government's levelling-up agenda which is seeing investment ploughed into the regions and away from London and the South-east.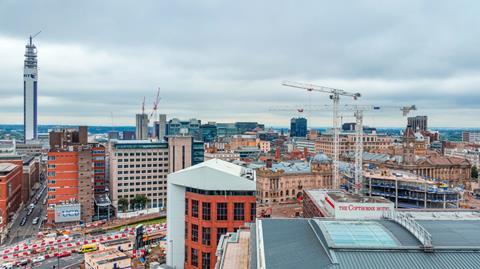 T&T said rising prices in the global construction sector will be sustained through 2022 and into 2023, with cost inflation in the UK expected to rise to 4% by 2023.
With a cost of £2,326 per sq m, London remains the UK's most expensive construction market but has now slipped out of the top five world's most expensive cities to build in.
Instead, five other UK cities now sit in the top 30 including Bristol, Birmingham, Manchester, Newcastle and Glasgow.
Scottish capital Edinburgh and Leeds were just outside with all seven now ranking as more expensive to build in than Paris and Singapore.
T&T said cost inflation will be greatest in Birmingham, at 5% this year, rising to around 7% in 2022, with projects like HS2 and the work required ahead of next year's Commonwealth Games in the city driving the spike.
By contrast, inflation in most English markets, including London, is expected to remain within 2% this year.
T&T said the pandemic had significantly distorted the balance of construction activity over the past year, with the shutdown of workplaces impacting on investor confidence in office development in major commercial centres such as London.
It added that while a desire to expand to meet increased online retail activity had encouraged investment in new distribution facilities, the most notable boom sector was the residential property market.
The consultant said both new-build housing and home improvement activity surged when the country exited the first lockdown last May with the market now operating above pre-pandemic levels.
It said infrastructure work, which saw a shallower decline in lockdown, was also above pre-pandemic levels while other thriving sectors included health, data centres and life sciences.
The report found that global cost increases were being driven by rising material costs and skilled labour shortages – both exacerbated in the UK by Brexit and the government's programme of investment after the pandemic.
Widespread disruption to global supply chains seen through the pandemic has also been sustained by high demand and competition for key materials between global markets including the US, Europe and China.
T&T said that globally, demand for steel, softwood and copper piping had caused prices to rise sharply over the year, with increases of up to 40% seen in some cities at home and abroad, including Birmingham.
Wage inflation has also been a factor in rising costs, with the average hourly construction wage in London now hitting £37.3 above the UK average of £33.
Tokyo is the most expensive city in the world to build in, with an average cost of £2,906 per sq m, followed by Hong Kong and San Francisco.