Consultant wins phases one and two of iconic power station redevelopment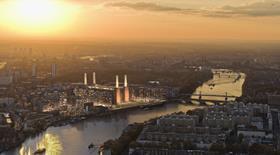 Turner & Townsend has landed the role of project manager on phases one and two of the redevelopment of London's iconic Battersea Power Station.
T&T will also act as employer's agent and has begun mobilising on the job.
Phase one involves two new residential-led buildings, while phase two comprises of the restoration and redevelopment of the crumbling power station itself.
Phase one is thought to be worth around £350m, while phase two is expected to be worth around £600m.
Preparatory work on phase one – which will be built to the west of the power station and named Circus West – has begun, with construction expected to commence in the second half of 2013.
Sir Robert McAlpine, Lend Lease, Laing O'Rourke, Carillion and Brookfield have been shortlisted for the first phase.
The Ian Simpson and dRMM- designed phase one will provide 800 apartments, a 120-bed hotel, 230 student apartments, and space for cafes, restaurants, bars, a gym, pool, spa, theatre and office studios.
Phase two is expected to include retail, offices, residential and leisure uses built within and potentially above the power station.
The power station is Grade II* listed and is the largest brick building in Europe.
T&T UK managing director Steve McGuckin said: "Battersea Power Station Development Company has done an amazing job over the last four to five years to get the project to this point. We're delighted to come on board."
He added Battersea would succeed the now-completed Shard as the next "live landmark project" on T&T's books.
He said: "To have successfully delivered the Shard and now to be doing this is great progression. We want the London team to always have landmark projects - it's a good way to keep great people in the business and it's a terrific calling card once you've delivered. You can't ask for more in term of profile and challenge."
Rob Tincknell, chief executive at the Battersea Power Station Development Company, said: "We're looking forward to working with Turner & Townsend. Battersea Power Station is one of the world's most recognised buildings and it's the last central London riverside location of this size to be redeveloped.
"That sort of undertaking is a massive responsibility and we are making sure we bring together the best team to ensure its emergence into the thriving new town centre for London."