Report examines ways to maximise benefits of £43bn project, calls for action now on strategies for major developments around HS2 stations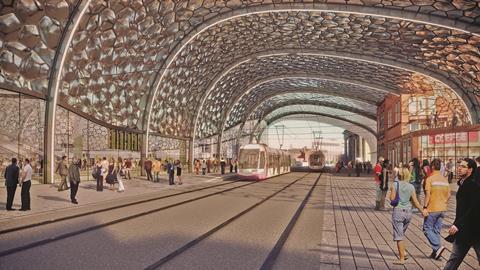 The government should begin working with regional cities now on strategies to realise developments around future HS2 stations, a wide-ranging report focused on maximising the benefits of the £43bn high-speed rail project has found.
The HS2 Growth Taskforce report, published today, makes a series of wide-ranging proposals aimed at maximising the economic and social impacts of HS2.
The report follows that of Sir David Higgins, the new HS2 chair, who on Monday published recommendations on how to speed up the construction of the project.
The task group, which was set up last summer, includes infrastructure minister Lord Deighton, Laing O'Rourke chairman Ray O'Rourke, and Manchester council chief executive Howard Bernstein.
The report calls for action now to simplify and join up funding to deliver construction fast around HS2 stations sites and calls for city regions to work together to integrate local transport networks.
The report says each planned station on the high-speed line should have a targeted plan for development, combined with a push to build a workforce with the right skills to take advantage of the 25,000 new work opportunities along the line.
The taskforce's recommendations include:
Regeneration
Each HS2 station needs a HS2 Growth Strategy to demonstrate how the project will provide jobs, growth and regeneration to cities
Local authorities must create an administrative body by the end of 2014 to deliver these strategies and the government must support them in bringing forward regeneration
Government should partner with local authorities in the development and delivery of the Growth Strategies
The government should appoint a minister with responsibility for HS2-related economic growth and regeneration
The government and Network Rail should deliver a plan by the end of 2014 on how HS2 will affect the rail services off the HS2 route and for rail freight as well as their plans for a wider review of rail services
Skills
The government must make railway engineering and advanced construction skills a national priority and deliver a plan of how the HS2 Skills College will contribute to this by the end of 2014
The government, HS2 and industry should develop an HS2 outreach programme by mid-2015, formally linked to the education system
HS2 should integrate high apprenticeship, job creation and skills development into its designed procurement process and set out its approach by autumn 2014
Procurement
HS2 should set new standards for industry engagement and open procurement
HS2 procurement strategy should require main contractors to use open procurement tools to advertise HS2 opportunities and the process should be streamlined where possible to minimise barriers for entry for small businesses
Sir Howard Bernstein, deputy chair of the Taskforce, said: "HS2 is not just a railway. It is the opportunity to re-balance Britain and kick-start regeneration in my city and others across the Midlands and the north of England. It is imperative that we work together to do all we possibly can to get the country ready."
Jeremy Blackburn, RICS head of policy, said the report was exactly what the RICS has been calling for: "It accurately explains the economic growth benefits of HS2, which go beyond the arguments around transport capacity, emissions reduction and shorter journeys.
"More than any other project, HS2 has the potential to redress the imbalance between North and South that has characterised the UK economy for decades.
"Its size and scope are visionary. And that's why we have to get it right. High-speed rail should be used to support economic growth by linking major economic centres, driving office, commercial and industrial property based growth in Northern and Midland cities.
"Without high-speed connections international, and indeed domestic, companies simply won't look north of London, making HS2 vital to increased investment in the regions and improving regional competitiveness."
Institution of Civil Engineers director general Nick Baveystock, said: "HS2 is an ambitious project and one which requires an ambitious, forward-thinking approach. If we are to fully grasp the vast opportunity HS2 presents for engineering skills and job creation, this approach must begin now.
"This of course means prompt preparation of the workforce to deliver the project, but also recognition that many of the advanced technological skills required will also be highly transferable to other sectors. "Government must seize this opportunity - using HS2 as a catalyst boost to the UK's competitiveness in emerging technologies and markets."