Housebuilder shuts Prestoplan with loss of up to 168 jobs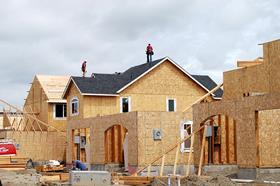 Housebuilder Taylor Wimpey is set to close its award-winning timber frame manufacturing business, Prestoplan, with the loss of up to 168 jobs.
The news - confirmed by the housebuilder in a statement - comes despite reports in the last year that the prefabricated construction sector had picked up due to the shortages of brick and block seen since the housing recovery started.
In a statement, the firm said: "A formal consultation process has commenced with all Prestoplan employees and employee representatives.
"Throughout this process our priorities will remain the welfare of all employees and the continued fulfilment of our clients' orders."
Taylor Wimpey declined to explain the reason for the closure or say how long it would be before workers learnt their fate.
Prestoplan is a 40-year old timber frame construction business with an 84,000 sq ft factory in Preston and a sales and project management office in Quedgeley, Gloucestershire.
It won the 2012 product of the year award at the Housebuilder awards for its PresRoof system which aids the construction of live-in loft space.