Housebuilder says it is on course to deliver 4% growth in margin, despite around 5% cost increases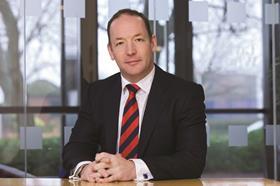 Housebuilder Taylor Wimpey is on course to deliver 4% growth in operating margin this year in the face of increasing construction costs, the firm has reported in a trading statement.
In trading from 30 June to date, the firm said growth in the housing market had "moderated but remained positive".
Chief executive Pete Redfern said: "Today we are operating in a UK housing market which is growing steadily and sustainably.
"We are confident that our ongoing focus on the highest quality sites and financial returns will enable us to deliver the significant performance growth set out in our medium term financial targets."
The firm is on course to deliver an increased operating margin, despite construction costs rising "around 5% year on year as the sector adjusts to increased demand from a more robust housing market."
Taylor Wimpey said the build cost rises "continue to be more than offset by sales price inflation".
The firm said the government and Bank of England's interventions earlier this year to cool the housing market have "not adversely impacted on our business".
The firm's order book has increased to £1.7bn, up from £1.5bn at this time last year, representing 7,814 homes, up from 7,557 homes.
Private average selling prices in the order book are up 19% year on year.
Trading conditions at the firm's Spanish business improved, with this division on course to report an improved operating profit for the year, above last year's £0.1m.
Taylor Wimpey concluded: "We are still operating in the early stages of the housing cycle. The UK housing market continues to show good signs of recovery and the pace of growth has moderated to a more healthy and sustainable level.
"With a reduced risk of interest rate increases in the near term, but also with tighter but sensible regulation, we believe that UK house prices are most likely to closely reflect inflation and recovery in the underlying UK economy. This stable but improving environment should be positive for both homebuyers and homebuilders."