Firm to spend £125m repairing legacy apartment blocks but confident of 2021 market
Housebuilder Taylor Wimpey saw profit slump by more than two thirds last year as housing completions nosedived in the wake of the covid crisis.
But the firm, which announced 2020 results and a £125m investment in fixing historic fire safety problems today, said it was poised to capitalise on a strong housing market given six months of accelerated land buying and record forward sales.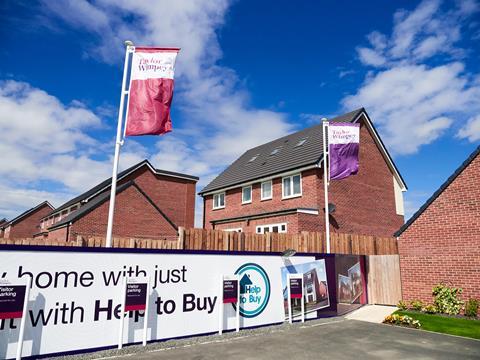 The housebuilder reported a pre-tax profit of £264m, down 68% on the £836m recorded in 2019, after revenue dropped by 36% to £2.79bn.
The firm said housing completions slumped by nearly two fifths to 9,799 homes last year, and that completions will remain 10% to 15% below the 2019 figure this year, despite the current strong housing market.
Chief executive Pete Redfern said the firm was now confident enough in the strength of the market to reinstate the firm's ordinary dividend, driving shares up more than 3% in early trading.
He added the company will allocate £125m to help repair cladding on anything up to 232 apartment blocks built over the last 20 years that may need work to bring them up to the standard required by RICS' EWS1 form. The vast majority of these blocks are below 18m in height and therefore not eligible for the government's £5bn cladding repair fund announced last month.
He said: "We are now focusing on driving efficiencies across the business, the roll out of our new house type range and implementing our ambitious new environmental strategy."
The firm said the 2021 year had started "well", albeit with a sales rate per site per week, at 0.89, slightly below the 0.94 seen in the very strong market experienced at the start of 2020, prior to the pandemic.
It said the order book included a "healthy" number of sales with completion dates extending into the next financial quarter when the stamp duty holiday had been expected to expire and the new, less generous, version of Help to Buy will come into effect.
The firm said that in 2021, "assuming the market remains broadly stable, we expect to deliver 85-90% of 2019 volumes", which would put the company on course to build between around 13,600 and 14,400 homes.
Taylor Wimpey also announced the launch of new "science based" environmental targets, with a promise to reduce the business's carbon emission intensity by 36% by 2025, and the carbon intensity of homes by 24% by 2030.
The resumption of the dividend will see the business pay out £151m to shareholder in May this year.
The firm said it had previously allocated £40m to repair the external walls in 19 legacy buildings over 18m, with works on 12 now complete. But it said the recent growth of concern regarding buildings below 18m meant that it had identified a further 232 apartment buildings built over the last 20 years which "may require fire safety works under EWS1 requirements."
It said the additional £125m allocated today would be used in buildings it had built but were not covered by the government's Building Safety Fund, and where a freeholder produced a "fair and proportionate" plan for fire safety improvement works following an EWS1 assessment. For these buildings it said: "we will contribute funding to assist freeholders in bringing those buildings up to the standards required by EWS1 assessment."