Housebuilder's pre-tax profit rises to £858m as it says Help to Buy winding down is a good thing
Taylor Wimpey has repeated its approval of government's "tapering" of the Help to Buy scheme as it announced a near-6% increase in annual profit.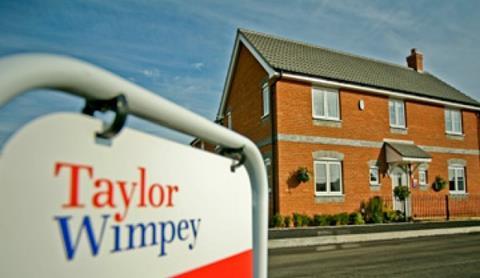 The housebuilder said it was right to limit the scheme to first time buyers from 2021 as it winds down towards 2023.
"Help to Buy has been popular with our customers and has supported them in getting onto the housing ladder but we believe that the changes announced [in the Autumn Statement last year] are appropriate and in the best long-term interests of the housing market and homebuyers," it said.
Taylor Wimpey noted that 36% of its total completions of just under 15,000 homes last year – at an average selling price of £264,000, level with last year – were bought using Help to Buy with 77% of those involving first time buyers, level with 2017.
The housebuilder said turnover for the year to 31 December 2018 was £4.1bn, up nearly 3%, with operating profit of £880m up 4% and a pre-tax profit number of £857m, up 5.5%.
It finished the year with an increase in net cash to £644m, which it said was a record for the firm, up 16%, while its total order book at the end of the year was 8,304 units, up 16%.
Taylor Wimpey said it was making progress with those of its customers who had been affected by the 'doubling lease' affair through its Ground Rent Review Assistance Scheme.
"Our objective is to ensure our customers are put back to a position they would have been in had the doubling lease not been in place by converting the 10-year doubling ground rent clause to an industry standard RPI-based structure, comparable to that used in the majority of residential leases in the UK."
Last year the firm had to set aside £130m to help leaseholders who bought homes with high or escalating ground rent charges.
It added that in the wake of the Grenfell fire it had completed work to remove aluminium composite material from one of its developments, and was working on two more.
While the buildings concerned had met the requirements of building regulations at the time construction was formally approved Taylor Wimpey said it had taken the decision to act on those it had constructed recently "because we believe that it is morally right, not because it is legally required".
Noting the uncertainty around the UK's departure from the EU next month the housebuilder said it expected volumes in 2019 to remain stable and for underlying build cost inflation during the year to be at a similar level to 2018 at around 3% to 4%.
Taylor Wimpey's chief executive Peter Redfern said 2018 had been another strong year for the firm and the group had yet to see any significant impact from Brexit. "We delivered in line with our expectations, achieving a strong sales rate and record revenues.
"Despite ongoing macroeconomic and political uncertainty, we have made a very positive start to 2019," he added.