Housebuilder introduces code of conduct which subcontractors will have to sign up to before starting work
Taylor Wimpey has said it will begin reopening mothballed sites early next month, six weeks after shutting them down following the prime minister's decision to put the country into lockdown.
The firm is the first major housebuilder to unveil a timetable for restarting jobs and said remobilisation will begin on 4 May with a phased process based on detailed new site operating protocols.
Chief executive Pete Redfern said: "We are now confident that we have clear plans and processes in place so we can safely start back on site."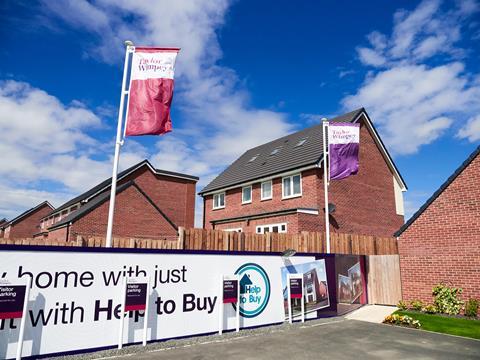 Taylor Wimpey said the reopenings will only apply to its jobs in England and Wales. "At this stage we do not expect to start work in Scotland, until a return to construction receives the Scottish government's support," it added.
It has introduced a code of conduct to make sure rules are being followed which it said employees and subcontractors will have to sign up to before setting foot on jobs.
It said: "[The code states] our very clear expectations of behaviours of all those visiting our sites to work. We will be regularly monitoring and enforcing these behaviours on our sites."
The firm said it did not "expect to deliver meaningful build progress until mid-May" and added: "The phased nature of our remobilisation is key to making the necessary adjustments to site safety and to properly train our employees, suppliers and subcontractors in the new requirements and ways of working."
It said it will also share its working practices with its peers free of charge. "We believe [this] will be useful for smaller housebuilders with limited resources," it added.
But it said its sales centres, show homes and regional offices will remain closed while it monitored latest guidance around social distancing.
Last night the government's chief medical officer Prof Chris Whitty said social distancing would need to remain in place until at least the end of the year.
Taylor Wimpey said the number of completions in the 16 weeks to 19 April had slipped 14% to 2,271 homes on the same period last year but the lockdown has not dampened buyers' enthusiasm for homes with its digital reservation process helping see its order book grow 6% to 10,880 homes during the same period.
The firm has also been running an in-house manufacturing project with employees which is supplying GP surgeries and care homes with reusable 3D printed face visors. It has extended the initiative to deliver PPE to around 50 care homes which has seen it hand over 75,000 masks, 75,000 aprons and 38,000 pairs of gloves.